Connect with us on
INSTAGRAM
and
FACEBOOK
or sign in for our
NEWSLETTER
.
SUMMER SALE AHEAD
June 22nd – 24th

We are looking forward to this years summer sale in our showroom in Berlin Schöneberg. As always, there are B-selection items with small irregularities or odd decors, samples, one-offs and discontinued series at reduced prices.⁠
Thursday / 22.06. / 11 am – 6 pm
Friday / 23.06. / 11 am – 6 pm⁠
Saturday / 24.06. / 11 am – 5 pm
Willmanndamm 13a, 10827 Berlin Schöneberg
Online Sale
For those who are not located in Berlin there will also be 'sale' category via our online shop going live on Wednesday, 22nd of June, at 7 pm.
https://shop.annabadur.de/en
OUR NEW SHOWROOM IN BERLIN SCHÖNEBERG
May 2022
From May on we have regular opening hours:
Wednesday – Friday: 11 am – 6 pm
Saturday: 11 am – 5 pm
SHOWROOM OPENING IN BERLIN SCHÖNEBERG


May 6, 2022 from 6 pm
The time has come: a few months after moving to our new premises, we are celebrating the opening of our showroom in Berlin Schöneberg.
Therefore we cordially invite you:
Friday, May 6, 2022 from 6 pm
We are looking forward to see you there!
Anna Badur, Willmanndamm 13a, 10827 Berlin
MAISON&OBJET
Elements of nature by Elizabeth Leriche
March 24-28, 2022
Hall 4, Living
ENTDECKUNGEN, ENTWICKLUNGEN, ERGEBNISSE
50 Jahre Frechener Keramikpreis
/ 50 years Frechen Ceramic Price
March 27, 2022 – February 26, 2023
Opening: March 27, 11:30 am
Keramion
, Frechen
OUR SHOWROOM IN BERLIN SCHÖNEBERG
January 2022
We currently do not have regular opening hours in our new showroom. There is usually someone on site, but if you want to be absolutely sure, you should just give us a quick call beforehand: 030-26032331
At the moment we are still setting up the other rooms and hope to be able to celebrate a real opening with many guests in spring.
CHRISTMAS POP-UP
IN OUR NEW STUDIO IN BERLIN SCHÖNEBERG - OPEN NOW!


December 2021
After seven years in our little studio in Neukölln we are really looking forward to a new start in our beautiful studio showroom in Berlin Schöneberg.
Christmas-Pop-up opening December 7th

We're not completely set up yet, but we're going to welcome you right away with a little Christmas pop-up. We are here for you until Christmas as follows:
Tuesday to Friday, 12:00 - 19:00
Saturday, 12:00 - 17:00
We're closed on December 23rd and 24th.
15% opening discount & free shipping
During the opening week from December 7th to 11th we give you a 15% opening discount on all products in the store. Online purchases will be shipped for free within Germany including December 12th.
We look forward to seeing you!
You can find us here:

Willmanndamm 13a, 10827 Berlin
Please note that for your visit, 2G plus mask applies.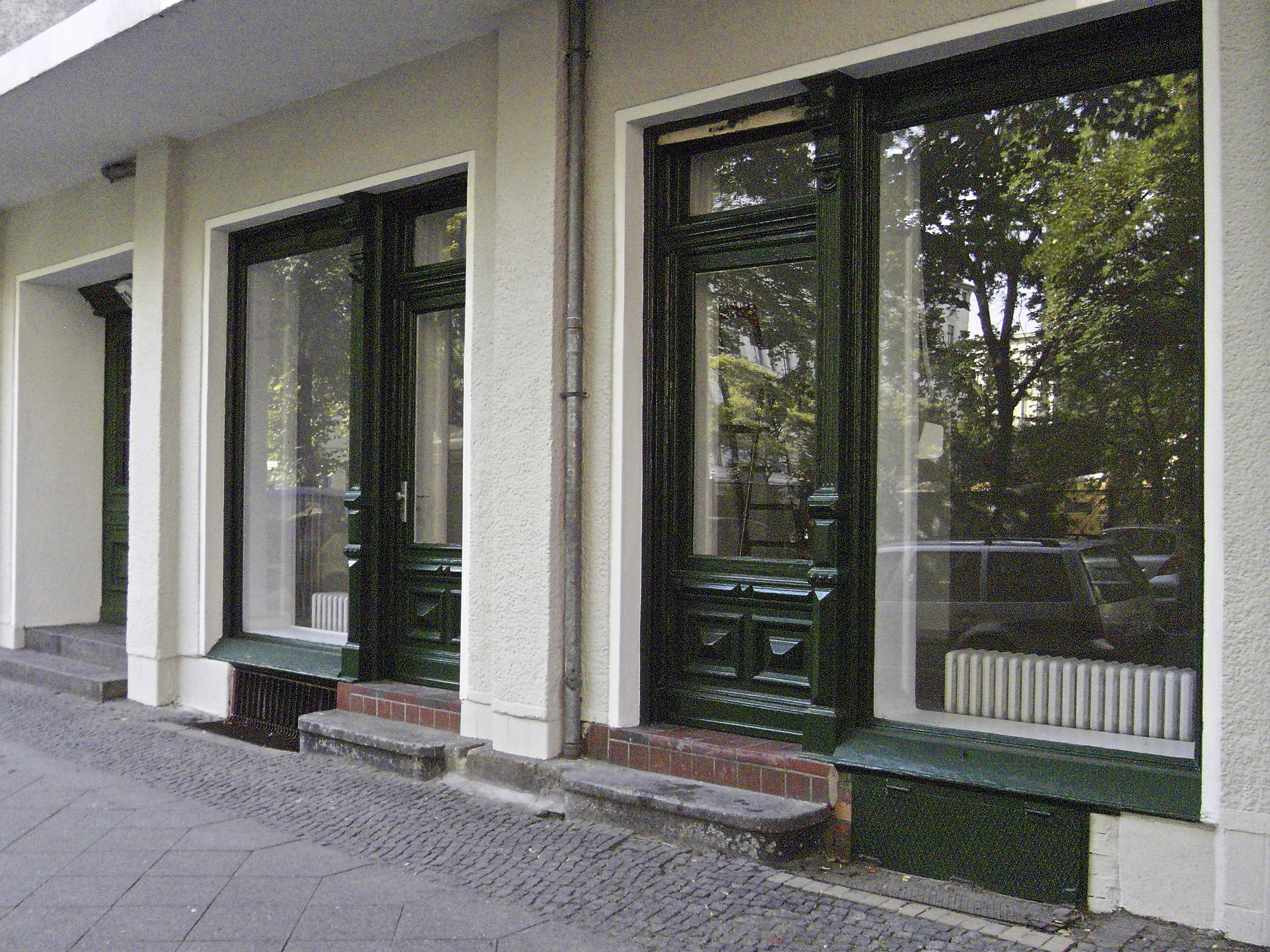 ⁠
In our office room we still have 2-3 workplaces for rent from December/January. If you are interested, write me an email to mail@annabadur.de⁠⁠
Shared use of the ceramic workshop will not be possible. ⁠⁠
WASSER IM FLUSS
EXHIBITION AT SCHMAGOLD in KASSEL

September 11 - October 9
ONLINE SALE

6-10 March 2021
⁠
It's been a while, but finally a new Seconds Sale is just around the corner! Normally we would have opened our studio in Berlin Neukölln but this time, due to ongoing COVID-restrictions, it will take place online.⁠
⁠⁠
What will be sold?⁠
All our porcelain items are made by hand and it is part of the process that little accidents happen along the way of making. It is mostly tiny flaws that can barely be seen like odd decors, little deformation, black spots or tiny glaze mistakes. These⁠ small irregularities don´t impact the function of the pieces but we can't sell them at their initial price. We offer⁠ those seconds at reduced cost.⁠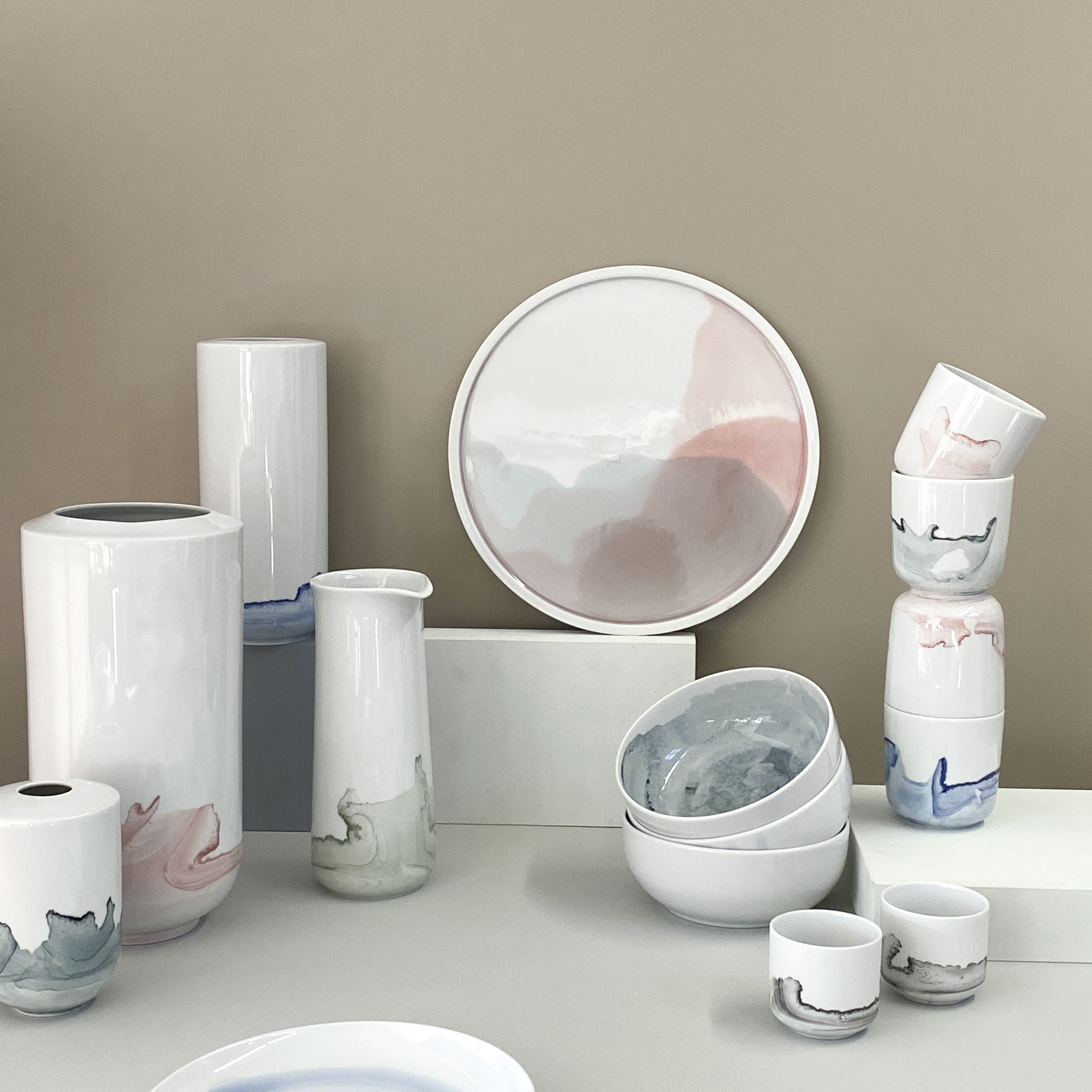 NEW PROJECT
CANDLEHOLDER FOR FRAU GOLD MANUFAKTUR
September 2020
Commissioned by Frau Gold Manufaktur we designed and realized an edition of porcelain candleholders in three colorings with soft gradients. They are exclusively available in her online shop:
www.fraugold.de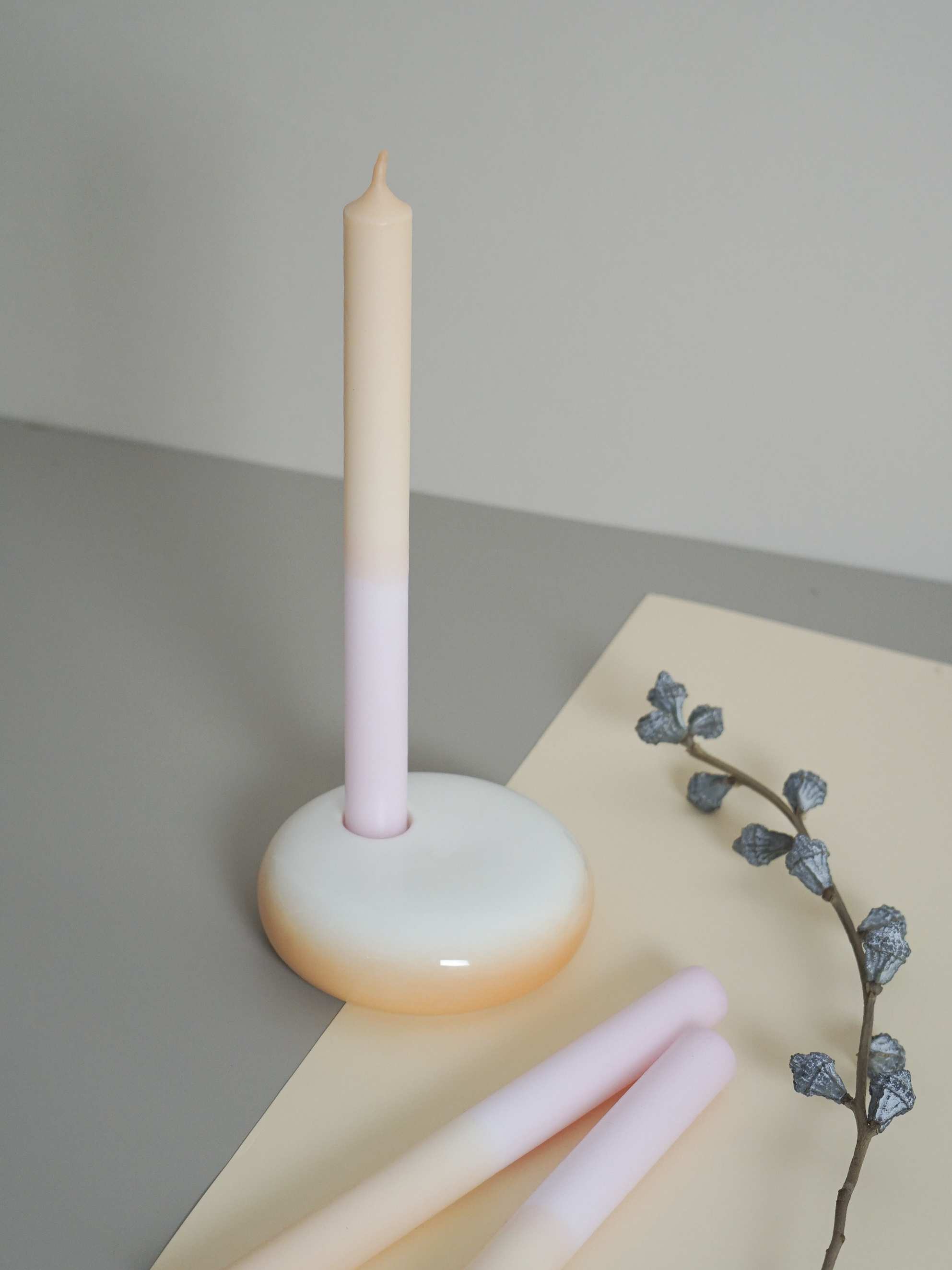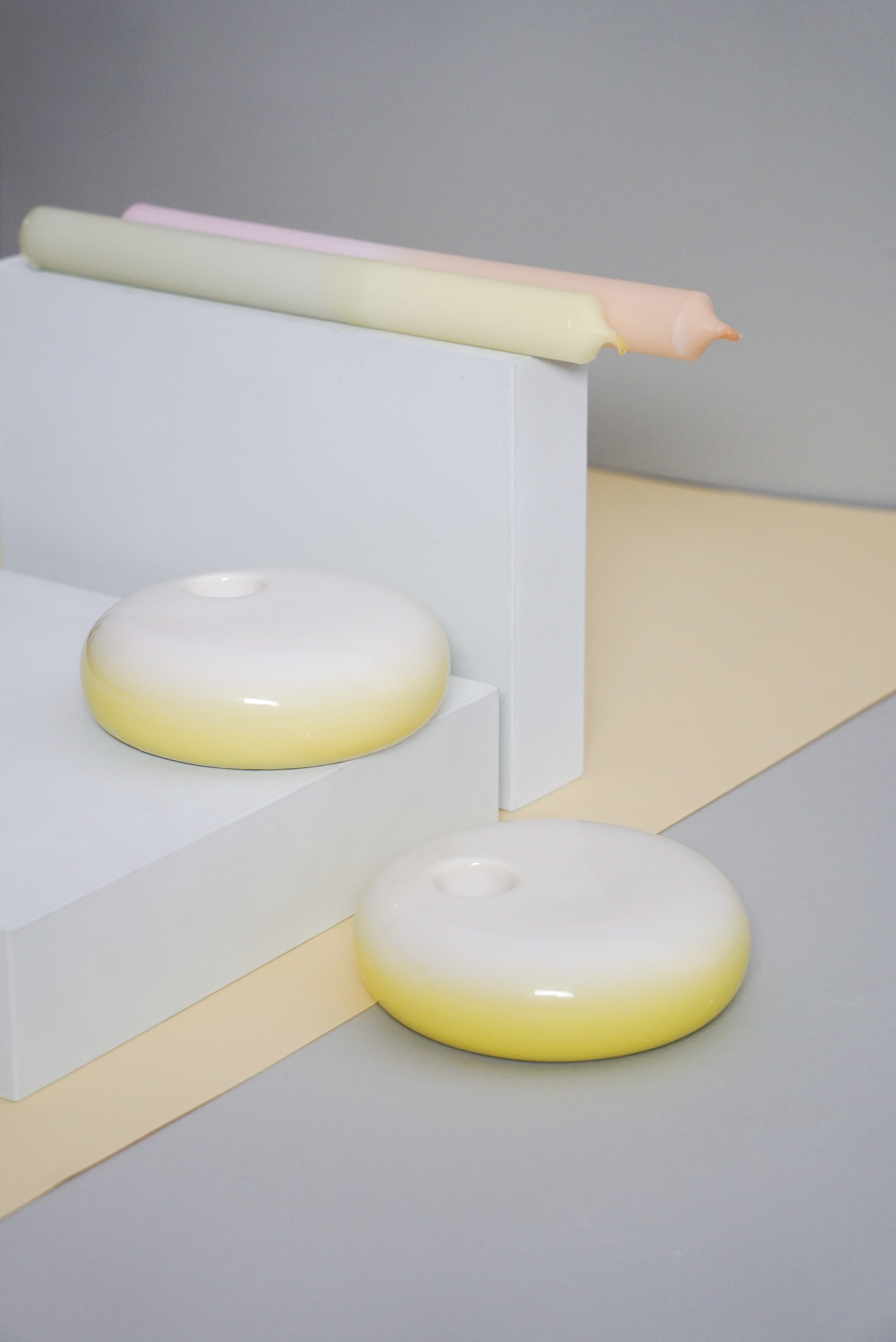 GUTES FÜR GUTES
AB SOFORT SPENDEN WIR EINEN TEIL UNSERES UMSATZES
April 2020
Wir sind unabhängige Designstudios, Kreativschaffende und MacherInnen, die Produkte in hoher Qualität in Deutschland oder dem angrenzenden europäischen Ausland herstellen. Wir glauben an kurze Produktionswege und nach Bedarf skalierbare Produktion, die sich der Nachfrage anpasst und keine Ressourcen unnötig verschwendet. ⁠Wir sind der Überzeugung, dass wir als Gesellschaft gemeinsam Verantwortung übernehmen und einen Beitrag leisten müssen. Wir Gestalter sehen uns als Teil dieses großen Ganzen.⁠⠀
In einer Zeit von verlangsamtem Konsum wollen wir darauf aufmerksam machen, welche Vielfalt von schönen Produkten mit anhaltendem Wert auf lokaler und nationaler Ebene gestaltet und hergestellt wird.⁠⠀
Gleichzeitig wollen wir einen positiven Beitrag für Andere leisten und spenden ab sofort einen Teil unseres Umsatzes an verschiedene Organisationen, die auf lokaler und internationaler Ebene unentbehrliche Arbeit leisten, um die Konsequenzen der Corona-Krise einzudämmen und dabei Menschenleben retten.⁠⠀
Wir stehen als kleine Designlabels vor einer ungewissen Zukunft, doch trotz unserer eigenen Sorgen wissen wir, dass wir in Deutschland diese Zeit zwar nicht unbeschadet aber doch besser überstehen werden, als viele andere Menschen auf dieser Welt. Um zu verhindern, dass uns die Krise zu Einzelkämpfern macht, wollen wir dieser Situation mit Solidarität entgegen treten.⁠ Wir glauben, dass gutes Design die Lebensqualität verbessert und auch in Zeiten wie diesen Freude schenken kann!⁠⠀
Folgende Projekte kannst du mit deinem Kauf bei uns unterstützen:
Amref Germany
In Deutschland und Europa herrscht Ausnahmezustand. Unsere Gesundheitssysteme sind jedoch im Vergleich zu denen auf dem afrikanischen Kontinent extrem gut aufgestellt. Die dynamische Ausbreitung des Corona-Virus – und das mögliche Ausmaß des Ausbruchs – wird afrikanische Gesundheitssysteme, die bereits unter immensem Druck stehen, schnell überlasten. Mit einer Spende an Amref können Menschen geschult, Ausrüstung und Schutzkleidung gekauft werden.⁠⠀
Die Arche
Das Kinderprojekt Die Arche setzt sich dafür ein, Lebensbedingungen benachteiligter Kinder und Familien in unserem Land dauerhaft zu verbessern. Durch die Schließung der Arche-Standorte müssen die Kinder nun auf unbestimmte Zeit auch auf die kostenlose Essensversorgung verzichten. Mit einer Spende werden Lebensmittelpakete geschnürt und den bedürftigen Familien geliefert. Zusätzlich wird Kontakt zu den Kindern per Telefon, WhatsApp und visuellen Medien gehalten, um einen sozialen Austausch zu gewährleisten und gemeinsam, online zu lernen und spielen. ⁠
Seebrücke
Besonders hart wird das Corona-Virus diejenigen treffen, die es ohnehin schon schwer haben rechtliche und medizinische Unterstützung zu erhalten. Dazu zählen auch die Geflüchteten an den EU-Außengrenzen. Wir wollen nicht, dass die Corona-Krise das Leid von Schutzsuchenden, die Gewalt und die humanitäre Katastrophe der Flüchtlingslager in den Hintergrund treten lässt. Wenn wir von Solidarität sprechen, sollten wir keinen Menschen vernachlässigen, fordert die Organisation Seebrücke. Eine Spende unterstützt diese bei ihrer politischen und aktivistischen Arbeit für die Interessen von Geflüchteten.⁠
Gib bei deinem Kauf in unserem Online Shop einfach einen der folgenden Codes beim Checkout an und wir spenden 25 % des Umsatzes:

#gutesfuergutes-seebruecke
#gutesfuergutes-amref
#gutesfuergutes-arche
AMBIENTE / FRANKFURT FAIR

07 - 11 February 2020
Hall 8.0 / D14
www.ambiente.messefrankfurt.com
ZEUGHAUSMESSE / GERMAN HISTORICAL MUSEUM
/ BERLIN
05 - 08 December 2019
www.zeughausmesse.de
GRASSIMESSE / GRASSIMUSEUM LEIPZIG
25 - 27 October 2019
The GRASSIMESSE is an international meeting point for those interested in design and passionate für beautiful things. It is even an art exhibition and a trade fair for applied art and product design from all fields.
GRASSI Museum of Applied Arts
Johannisplatz 5-11, 04177 Leipzig
Thu, 24.10.: 8 pm-9:30 pm, free entrance
Fri, 25.10.: 10 am–7 pm
Sat, 26.10.: 10 am–7 pm
Sun, 27.10.: 10 am–6 pm
www.grassimesse.de
THROWN CONTEMPORARY / LONDON DESIGN FESTIVAL
Opening 12 September 2019

Thrown at Highgate Contemporary Art (Ground Floor)
26 Highgate High Street
Highgate
London
N65JG

RADICAL CRAFT / DIREKTORENHAUS BERLIN
24 May 2019 - 05 April 2020

The Direktorenhaus' annual exhibition, "Radical Craft", presents 60 designers and artistic craftworkers, who show how important artistic craft is today in creating future designs for society. For modern consumer products the market is no longer trending with static goods, but only with improvements – not with fixed features, but only with product enhancements and superior qualities. The exhibition "Radical Craft" shows how contemporary product design escapes this spiral by drawing on its origins: on the experimental forerunners in conceptual art and in radical artistic craft. These critical approaches demonstrate how important the quality of the products we use every day is: it represents a necessary condition for a comprehensive economic transformation, which is ultimately a cultural one.

/www.direktorenhaus.com



EUROPEAN ARTISTIC CRAFT DAYS / EUROPÄISCHE TAGE DES KUNSTHANDWERKS 2019
5 - 7 April 2019

On the occasion of the European Artistic Craft Days 2019 we will show some of our latest works at the beautiful gallery Wilhelm die 3. in Berlin Prenzlauer Berg.



www.berlin.kunsthandwerkstage.de


MATERIAL DISTRICT ROTTERDAM
12-14 March 2019

Our textiles DRAWN BY NATURE will be showcased during Material District in Rotterdam.


www.materialdistrict.com
STOCKHOLM DESIGN WEEK / R-EVOLVE
05-10 February 2019

VOLVO Studio's concept showroom

www.stockholmdesignweek.com


MAISON & OBJET PARIS
18-22 January 2019

We are happy to present our latest works at Maison & Objet 2019, section UNIQUE & ECLECTIC SIGNATURE:
Hall 5A, Q28




Aditional to our booth you will also find a selection of our latest work in the WHATS NEW spaces.
SHARE curated by François Bernard, Hall 1
DECOR curated by Elizabeth Leriche, Hall 3


IMM COLOGNE: represented by bartmann berlin
14 - 22 January 2019

Hall 3.1, B039

We are very pleased that our products will be presented by our dear friends and great furniture company bartmann berlin at imm cologne.


www.bartmannberlin.de


TRENDSET MUNICH
03 - 05 January 2019

Hall B1, F31-19


ZEUGHAUSMESSE BERLIN
6 - 9 December 2018
German Historical Museum, Berlin



FRECHEN CERAMICS PRIZE 2018, FINALIST EXHIBITION

07.09.2018 - 10.03.2019
Frechener Keramikpreis 2018
Keramion Frechen

Official opening: 4 November, 11:30


www.keramion.de
Frechener Kulturstiftung
SKOPJE DESIGN WEEK 2018
21 - 25 November 2018
Public Room


www.ministryofpleasure.net


HANDMADE IN GERMANY-WORLDTOUR: ICFF, NEW YORK
2018, May 20 - 23


https://handmade-worldtour.com/en/latest/article/naechster-stop-new-york/

TROFEJAS BERLIN
2018, March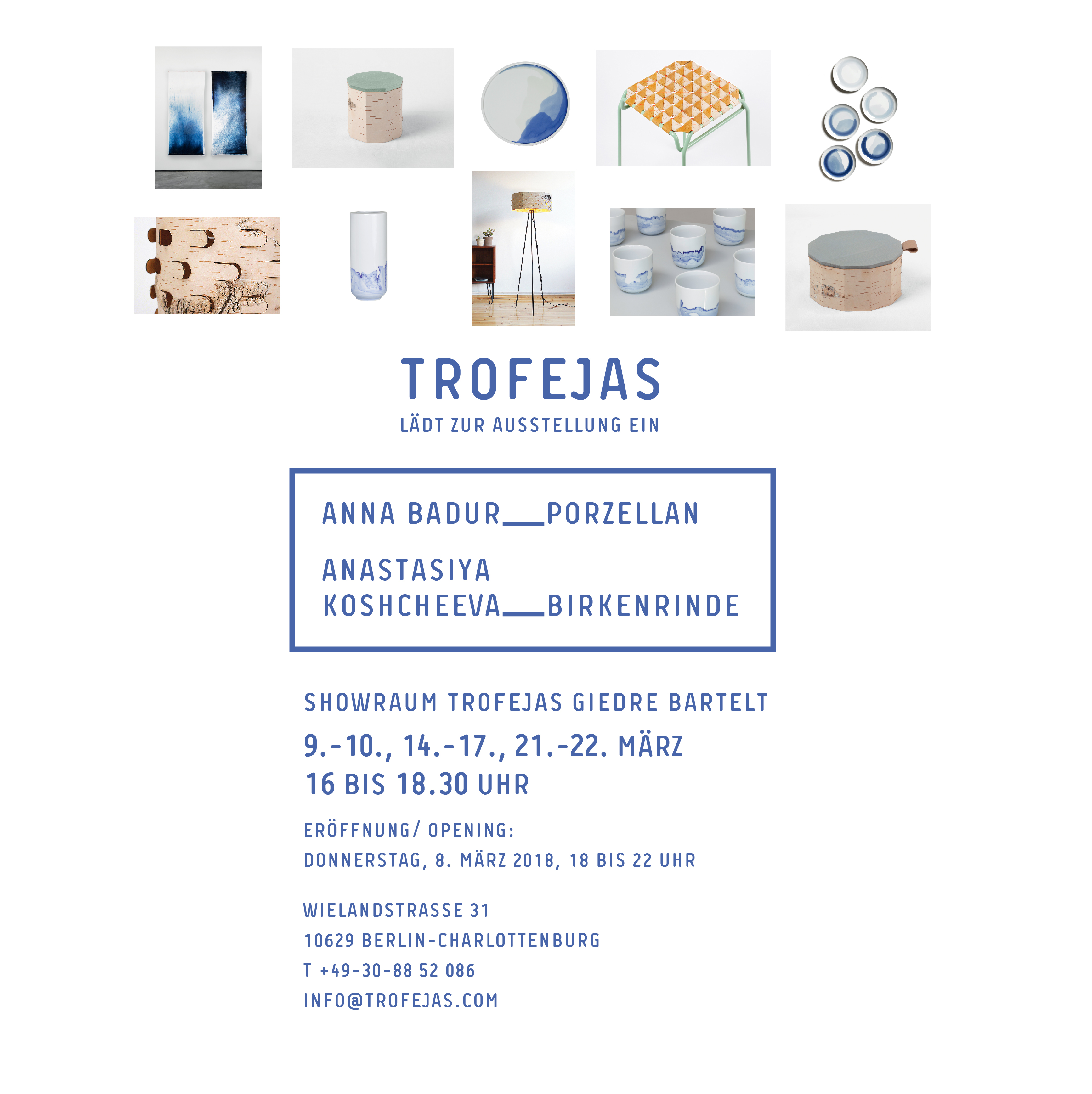 FORMLAND, DENMARK
2018, February 1 - 4







You find us in Hall E, stand 53
www.formland.com

MAISON & OBJET PARIS
2018, January 19 - 23

We will show our latest work during M&O in Paris. You find us in Hall 7, stand G170.


www.maison-objet.com

ZEUGHAUSMESSE BERLIN
2017, December 07 - 10


www.zeughausmesse.de

BLICKFANG VIENNA
2017, October 27 - 29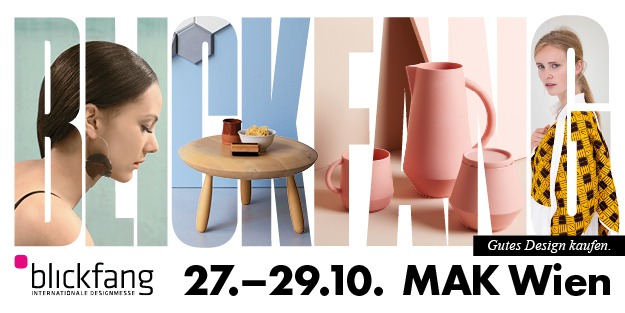 www.blickfang.com

DUTCH DESIGN WEEK: 5 YEARS DRIVING DUTCH DESIGN AND HOTSPOTS
2017, October 21 - 29
Veemgebouw, Eindhoven


www.ddw.nl


OCTOBER 2017:
FEINWERK, SCHLOSS FASANERIE, EICHENZELL
06 - 08 October


www.feinwerk-markt.de

SEPTEMBER 2017:
HANDMADE IN GERMANY in BEIJING
September 21 - 25

Handmade in Germany Worldtour at Beijing Design Week, CN

www.handmade-worldtour.com



SEPTEMBER 2017:
OPENING AT WILHELM DIE 3.

Opening: 22 September, 17:00
Immanuelkirchstraße 5, 10405 Berlin, Prenzlauer Berg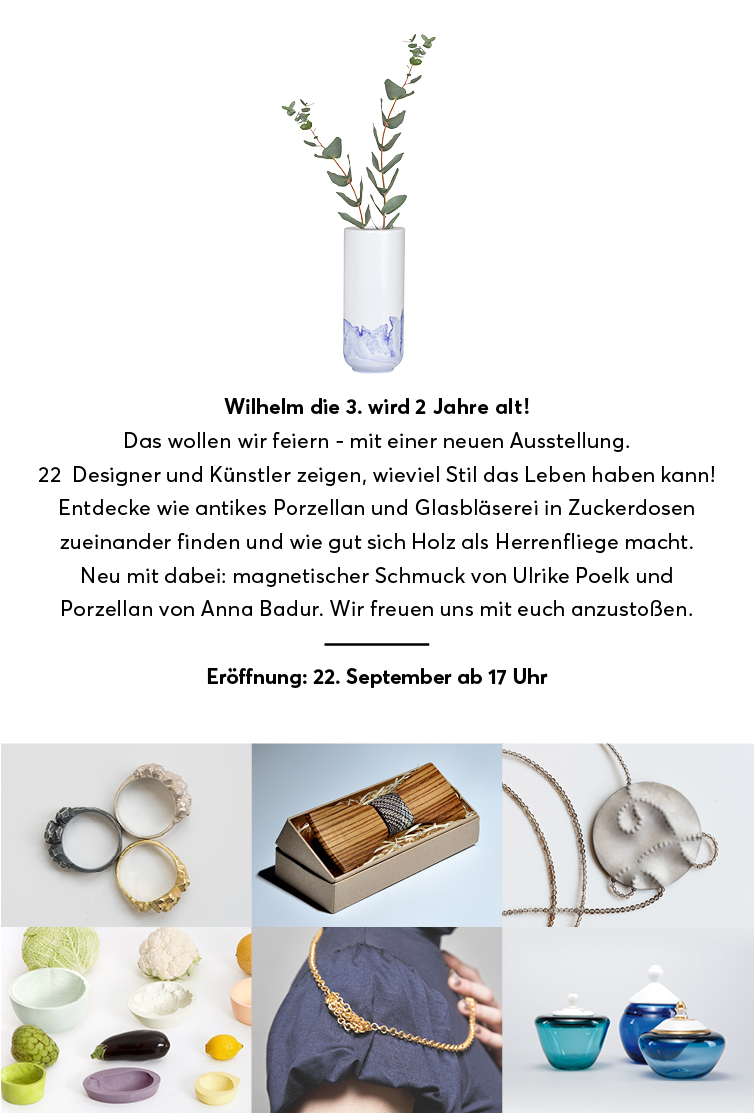 MAY 2017:


BLUE SUNDAY – GERMAN DESIGN AWARD NOMINEE 2018



With its poetic decor the porcelain series Blue Sunday draws a bow from an industrial product to a unique copy. Each decor is partly left to chance resulting in unique patterns that remind us on the waves of the sea, a passed rain shower or evaporated puddles.
In cooperation with KAHLA/ Thüringen-Porzellan.





JUNE 2017:


TALENTS, TENDENCE, MESSE FRANKFURT

24 - 27 June
Messe Frankfurt, Hall 9.0



JUNE 2017:


ALLES NEU, STATE OF DESIGN BERLIN




Nieuwe German Gestaltung #006
01 - 04 June
Vollgutlager Alte Kindl Brauerei Berlin Neukölln



APRIL 2017:


HUNGRY FOR DESIGN, MILAN DESIGN WEEK


04 - 09 April 2017

LaDoDo Gallery, Porta Romana
Via L. Muratori 11, 20135 Milan



JANUARY 2017:


DESIGNERSFAIR 2017


16 - 22 January



www.designersfair.de
DECEMBER 2017:
TEMPORARY STORE BERLIN

OCTOBER 2016:


BROKEN WHITE, VAN ABBEMUSEUM EINDHOVEN


08 October - 06 November

For Dutch Design Week 2016, from 22 until 30 October, Design Academy Eindhoven and the Van Abbemuseum once again join forces for an exhibition: Broken White. Broken White opens on Saturday 8 October. After DDW the exhibition is on view until 6 November 2016.

'Broken White' is all about colours and the meaning and feeling they invoke. The entire spectrum is covered; from light, reflective objects to objects in dark, absorbent colours. Thanks to new technologies and materials the appearance of colours changes and so does their meaning. 'Broken White' shows how designers and artists deal with this and how the latter help shape that meaning. The concept of the exhibition is based on the colour theories developed by Mathieu Meijers, artist and tutor at Design Academy Eindhoven.




PARTICIPATING DESIGNERS AND ARTISTS
Anna Badur (i.c.w. Beno Ogrin), Douwe Jan Bakker, Thomas Bakker, Walter van Beirendonck, Edith van Berkel, Lynne Brouwer, Daniel de Bruin, Andrea Büttner, Patrick van Caeckenbergh, Abraham Cruzvillegas, Brigitte Dalmaijer, Edith Dekyndt, Dries Depoorter, Jan van den Dobbelsteen, Léa Donnan, Alice Dunseath, ENVISIONS (Bastiaan de Nennie, Simone Post, Sanne Schuurman, David van der Stel and Iwan Pol), Katharina Fritsch, William Graatsma & Jan Slothouber, Konstantin Grcic, Theo Hoppenbrouwers, Charlotte Jonckheer, Hella Jongerius, Anish Kapoor, Annette Kelm, Job Koelewijn, Dirk Vander Kooij, George Korsmit, Tanya Long, Mathieu Meijers, Jonathan Muecke, OS ∆ OOS, Pantone, Dominic Plüer & Olivier Smitt, Pierluigi Pompei (i.c.w. Arnold Maninissen), Vera de Pont, Benno Premsela, Bas Princen, Jakob Schlaepfer, Scholten & Baijings, Maddalena Selvini, Wieki Somers, Studio Makkink & Bey, Bas van Tol & Han Speckens, Wolfgang Tillmans, Patricia Urquiola.
Gallery 8 shows the installation Aristotle's Room, developed by Willeke Jongejan (AkzoNobel - Flexa and Sikkens), Marijke Griffioen (Forbo Flooring Systems), Christiane Müller (Vescom) and José Maase (Royal Mosa).

www.vanabbemuseum.nl


October 2016
THE WALL, NIEUWE GERMAN GESTALTUNG #4
14 - 23 October

Can today's design still be more than just another brick in the wall - and if so, how? This question will stand central to an exhibition platform in which the Biennale Interieur in Kortrijk, Belgium, invited Max Borka to show a choice of the best and latest in German design during the coming Biennale INTERIEUR 2016. Max Borka is member of the selection committee and former director of the Biennale, and currently director of state of DESIGN, BERLIN. The exhibition will be the fourth in a series which Borka curates on 'Nieuwe German Gestaltung', a series which in the past also included 'Nullpunkt', at the Marta Herford museum in Herford, and two 'Refugium' exhibitions, as part of DMY 2013, and state of DESIGN, BERLIN 2016.



www.interieur.be




July 2016
INTERATIONAL MARIANNE BRANDT CONTEST 2016 - NOMINEE

Our tiles SHIFT have been nominated for the Marianne Brandt Contest in the category Product. The award ceremony and exhibition will take place in Chemnitz, Museum of Industry, in October 2016.



June 2016


TRUE BLUE: NATIONAL MUSEUM OF DECORATIVE ARTS AND DESIGN IN TRONDHEIM



16 June - 4 September 2016

Blue Sunday is part of the exhibition True Blue. The blue line meets white china. The summer exhibition presents the blue and white pattern adorning both imperial china and contemporary fashion garments.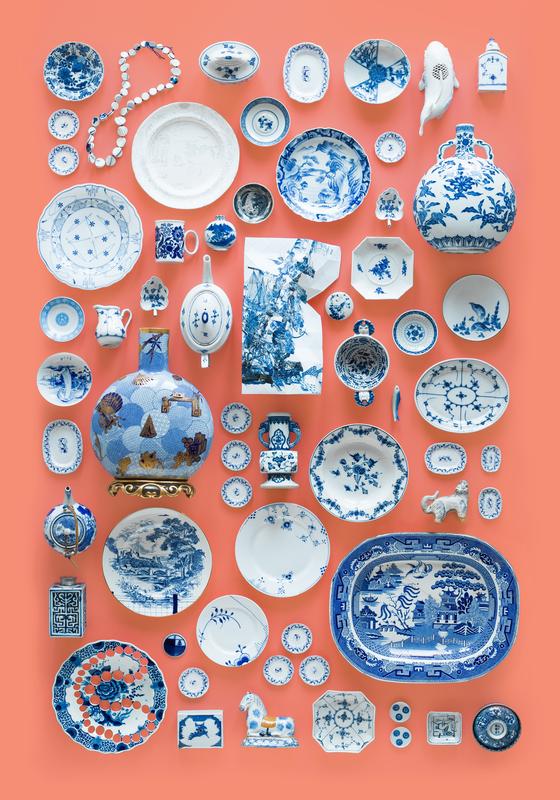 Collection Nordenfjeldske Kunstindustrimuseum. Photo: Jan Ove Iversen

Nordenfjeldske Kunstindustrimuseum


May 2016


WE LOVE DESIGN AWARD – WINNER




We are very happy to announce that we received the We Love Design Award for our latest porcelain series Blue Sunday in the category Product Design Young Professional.



April 2016


KAHLA KREATIV AT PORZELLANIKON, SELB



16 April - 20 May



April 2016


SELECTED 2016, GRAZ



Official Opening: 29th of April 2016 19:30
Opening times: 29th of April - 29th of May





Location: DesignHalle Graz
Lazarettgürtel 62
8020 Graz

www.selected-design.com



January 2016


SPECIAL MENTION FOR ONDA / PURE TALENTS CONTEST 2016



ONDA has been awarded with a Special Mention in the Pure Talents Contest 2016. Thanks to the jury, the German Design Council and imm cologne!



January 2016
PURE TALENTS CONTEST AT IMM COLOGNE

18-24 January 2016

Our ceramic border tiles ONDA are selected by the German Design Council for the Pure Talents Contest 2016 at imm cologne. The exhibition shows 20 new works of young designers from around the world.

Pure Talents Contest at imm Cologne
passage 2/3 (between halls 2 and 3)



November 2015
EXHIBITION AT KATJA SÖCHTING INTERIOR DESIGN, BERLIN-MITTE

Opening: 12 November, 17:00 - 20:00
Ackerstraße 165 in Berlin-Mitte

Katja Söchting interior design and Irina Jurasic linea1
are presenting works by Anna Badur.
On show: textiles, porcelain, concrete



September 2015
TWISTING TRADITION AT MINT GALLERY
LONDON DESIGN FESTIVAL

19 - 30 September
show extended...






The selection for this year's LDF has taken Mint on a cultural journey to the most poetic corners of craft-orientated design. A selection of works, inspired by traditional craftsmanship in a contemporary context.

Twisting Tradition showcases design from over 60 individuals, collectives and established makers who challenge conventional thinking with an imaginative approach to materials and techniques. Our stone vessels Radio will be on show.


www.mintshop.co.uk
www.londondesignfestival.com


September 2015
NEW HOME TEXTILES FOR MANUFACTUM



www.manufactum.de

September 2015
MATTER OF STUFF AT THE HOSPITAL CLUB
LONDON DESIGN FESTIVAL

24 - 27 September

The Hospital Club
24 Endell Street
London WC2H 9HQ







Matter Of Stuff, the architecture studio and online design gallery-shop, will present an exhibition celebrating works by its roster of European designers. The exhibition will show the concepts and processes behind the works through a programme of talks, video presentations and live performances.


www.matterofstuff.com
www.thehospitalclub.com
www.londondesignfestival.com


August 2015
GALLERY MEDI-ART LUXEMBOURG

12 August - 18 September
Vernissage: 11 August, 18:00

mediArt
31, Grand-rue
L-1661 Luxembourg



July 2015
GERMAN DESIGN AWARD NOMINEE




June 2015
KAHLA-KREATIV RESIDENCY

I am happy to be selected for a one month residency at Kahla porcelain, together with 11 other international artists and designers.



www.kahlaporzellan.com

April 2015
GRIMSEL DESIGN STORE, BASEL
Opening, 23 April, 18:00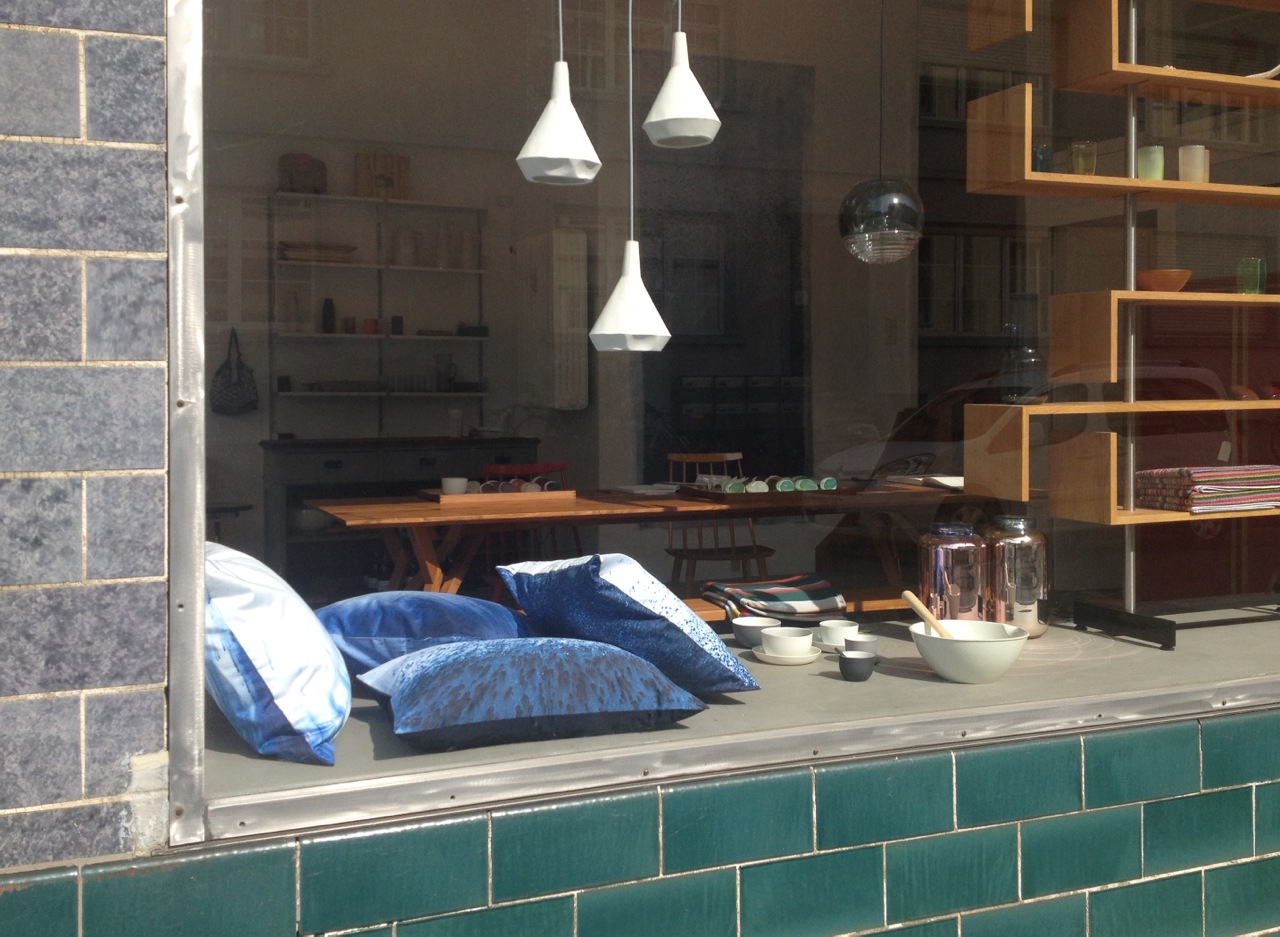 My Drawn by Nature fabrics among some new pieces and the Whatever the Weather series are on show at Grimsel Design Store in Basel until end of June.

Grimselstraße 1
CH-4054 Basel

www.grimsel.net


April 2015
SALONE SATELLITE, MILAN

14-19 April

Together with Designer Antje Pesel I have exhibited new works at Salone Satellite during Milan furniture fair.



In collaborazione con il Goethe-Institut Mailand


October 2014 - April 2015
BLICKFANG / PRESENTED BY FRITZ HANSEN


I am very pleased to show my work at seven Blickfang fairs presented by Republic of Fritz Hansen.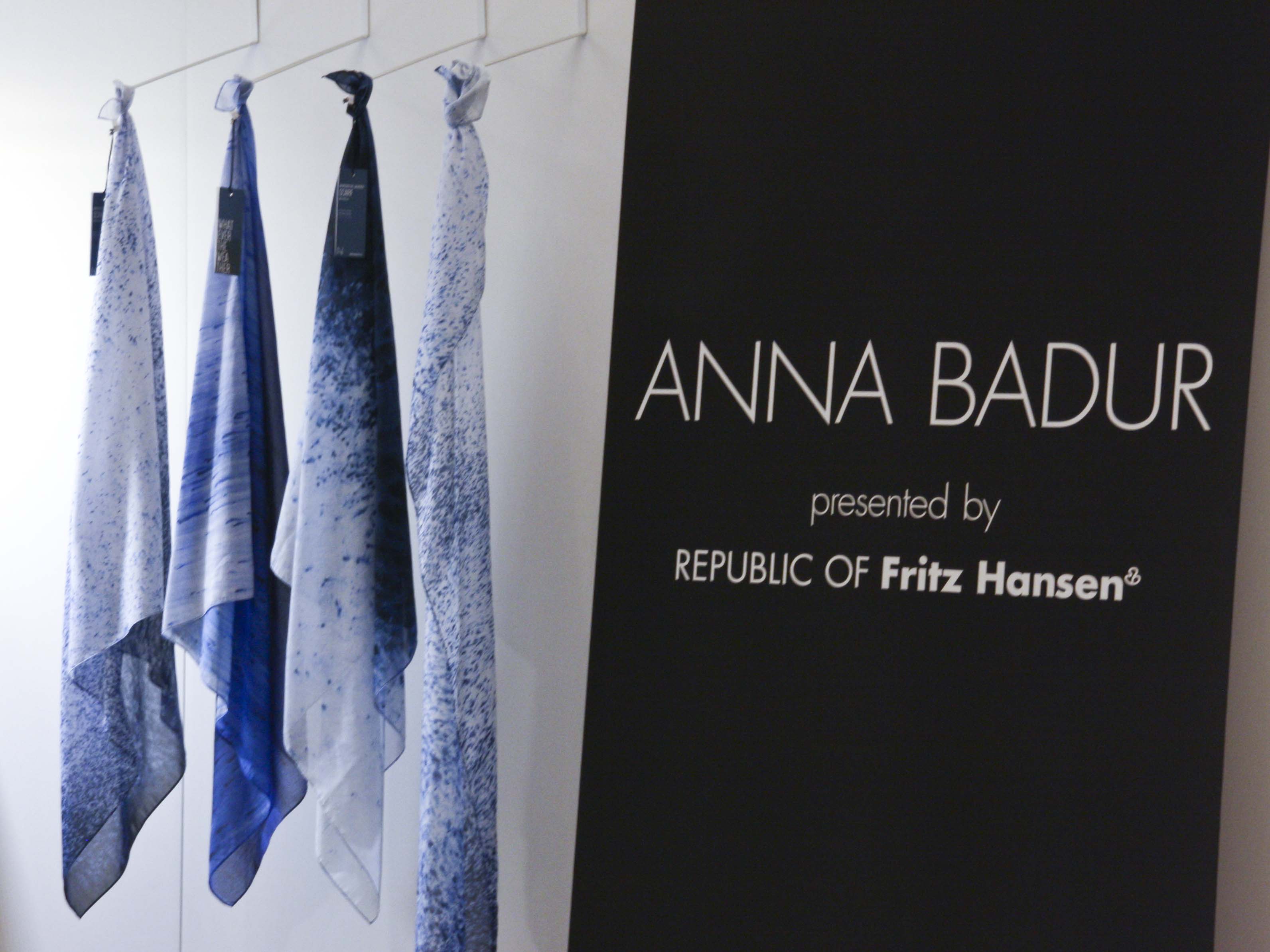 Save the dates for 2015:
blickfang Munich I Zenith 13 I 14 I 15 March 2015
blickfang Stuttgart I Liederhalle 20 I 21 I 22 March 2015
blickfang Basel I Messe Basel 24 | 25 | 26 April 2015


www.blickfang.com
www.fritzhansen.com




September 2014
BIO 50 / 24TH BIENNIAL OF DESIGN LJUBLJANA, SLOVENIA
OPENING DAY


On Thursday, 18 September 2014, the results of an unprecedented collaborative effort will take the stage at the Museum of Architecture and Design in Ljubljana, as BIO 50 opens its doors to the public unveiling of the results of an ambitious six-month work process with eleven teams.

I have been working within the Hidden Crafts Team mentored by Tulga Beyerle in great collaboration with stonemason Beno Ogrin from Kamena. My contribution to BIO 50 will be shown at Moderna Galerija, Museum of Modern Art Ljubljana.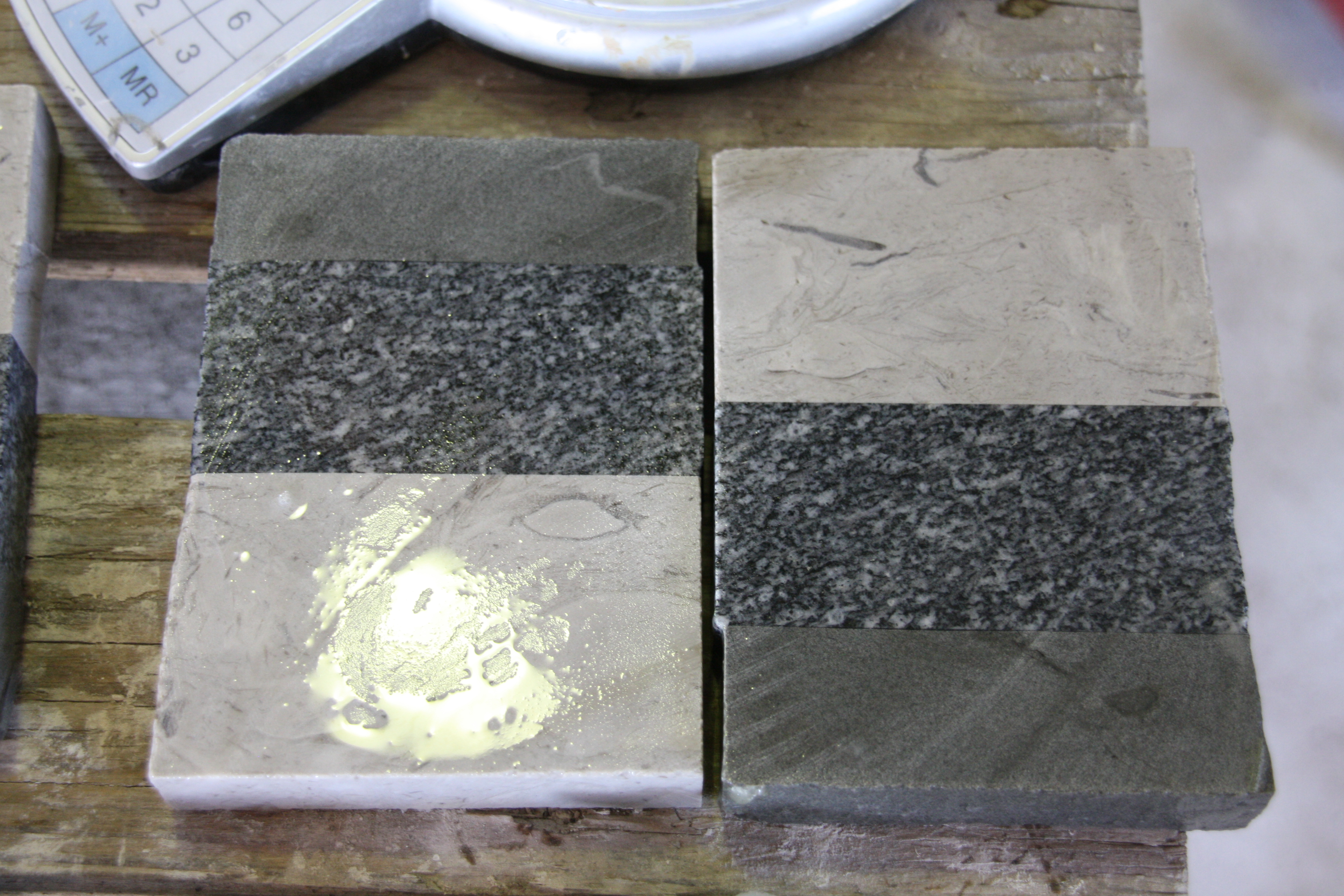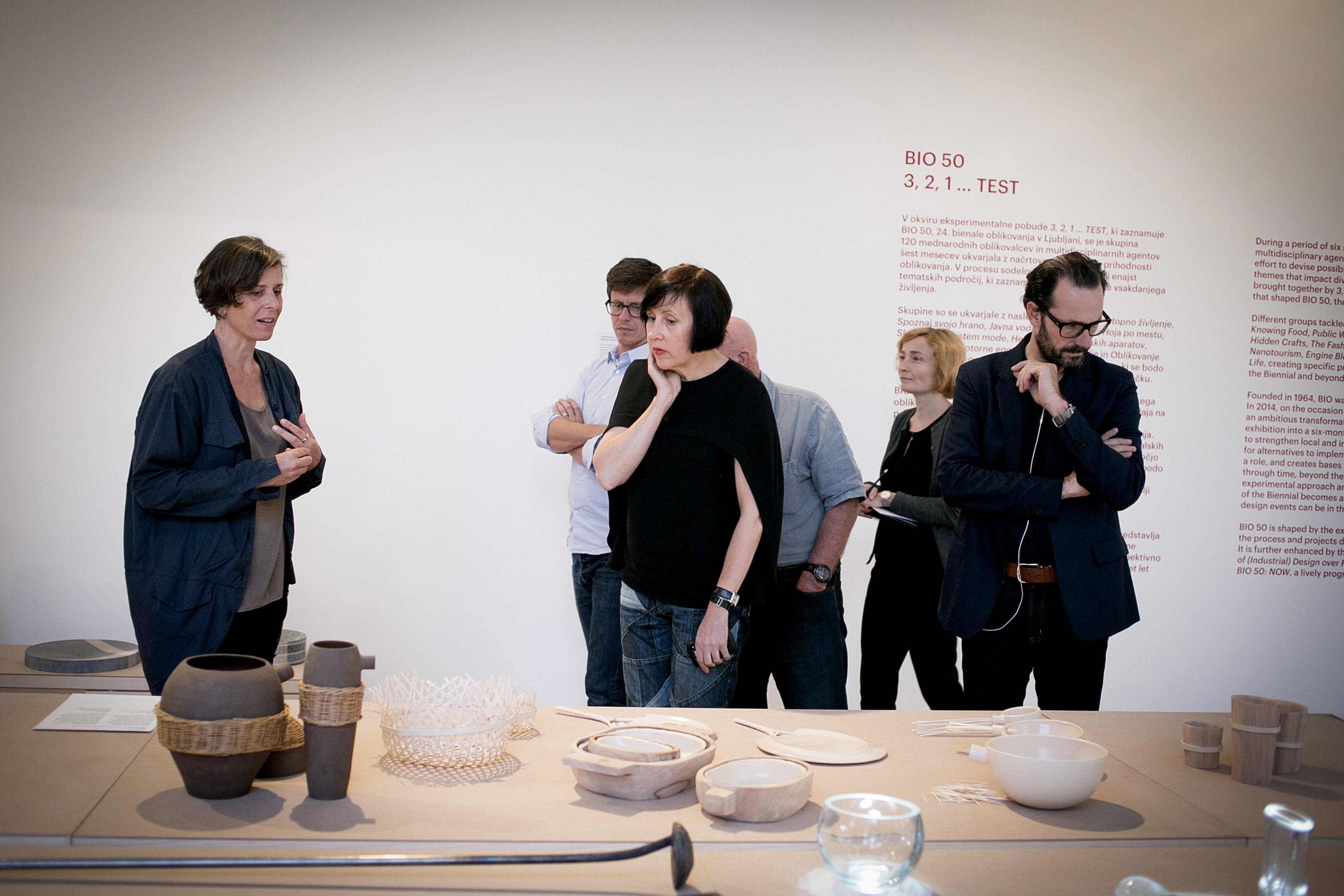 www.bio.si

September 2014
INTERNATIONAL CERAMICS FESTIVAL '14 MINO, JAPAN

September 12 - October 19, 2014
Venue / Tajimi-Shi, Toki-Shi, Mizunami-Shi, Japan


The International Ceramics Competition Mino is held with the aim of supporting the growth of the ceramics industry and the enhancement of culture through the global exchange of ceramics design and culture. The outstanding art works will be gathered from all over the world.

My porcelain work "For Hak Min" has been awarded with an honorable mention and will be on show.



www.ifcmino.com


September 2014
MOOD / EUROPEAN TEXTILES FAIR BRUSSELS, BELGIUM
September 9 - 11 / / Global Color Research / Brussels / Belgium


Drawn by Nature is selected for the Innovation Platform – a sample bank of innovative materials for upholstery, window and wall covering at MooD. Click here for the innovation sample catalogue.




www.moodbrussels.com

June 2014
TRENDTABLET: TALENTS
by Lidewij Edelkoort




www.trendtablet.com

April 2014
BERLIN REFLECT / SALONE DEL MOBILE MILAN


Ventura Lambrate, Via Giovanni Ventura 2
8 - 13 April 2014
www.berlinreflect.com


January 2014
MAISON & OBJET / PARIS / EXHIBITION REVIEW




January 2014
MAISON & OBJET / PARIS


24 - 28 January 2014
« LANDSCAPE » Trend Exhibition curated by Elizabeth Leriche
Parc des expositions de Paris Nord Villepinte / Hall 7

On show: Drawn by Nature / Textiles
Absorbtion / Ceramic Tiles
Ebbe / Porcelain Bowls



www.maison-objet.com

January 2014
LECTURE AT HBK BRAUNSCHWEIG


Lecture at HBK Braunschweig about the "Link to production" workshop I participated at Cmielow Design Studio in Poland. The lecture gives an insight into the production processes of Poland's biggest porcelain factory and shows the project I realized during my residence.



December 2013
MARCHÉ DES CRÉATEURS @ MUDAM


4 -8 December 2013
Mudam Museum / Luxemburg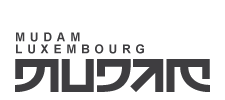 From December 4 to 8, 2013, Mudam, opens its doors once again to the "Marché des créateurs", offering designers an unusual display and selling space.
Together with the designers collective WAH I will show a new collection of porcelain jewellery and shawls made from "Drawn by Nature" textiles.

www.mudam.lu
www.wah.com


November 2013
FINALLY I AM ON FACEBOOK



have a look

November 2013
RESIDENCY AT CMIELOW DESIGN STUDIO / POLAND


I am very pleased to be selected to join the product workshop at Europe's biggest porcelain factory in Ćmielów (Poland) in cooperation with IDZ (Internationales Design Zentrum Berlin) and Ćmielów Design Studio.



More information and images here:
www.berlinpoland.eu


October 2013
STIRRING SEAS / NEW WALLPAPER AVAILABLE NOW





Available here:
www.us.anthropologie.com


October 2013
ABN AMRO HOTSPOT @ DUTCH DESIGN WEEK


19 - 27 October 2013
Ketelhuisplein / Strijp-S
Eindhoven / The Netherlands

Curator & Exhibition design / Van Eijk & Van der Lubbe


www.dutchdesignweek.nl

September 2013
LIONEL AWARD 2013 / TEXTILE & FASHION

Drawn by Nature Textiles / 3rd Prize



August 2013
RESIDENCY AT KUNSTVEREIN KEHDINGEN
28.08.-06.09.2013

Next week I will be hidding north to work for 10 days on a land art project by the Elbe river estuary close to Hamburg.




June 2013
STYROFOAM


A Case for Styrofoam – Anna Badur's Unique Take On Mundane Materials
Thanks for the article on www.procureddesign.com








________________________________________________________________________________________________
June 2013
...YET TO BE DISCOVERED @ Berlin Design Week


7 - 28 June
Opening: 6 June / 19:00
Ongoing: 07.06. – 28.06 / viewing by appointement / email: kurz@illustrative.de
Direktorenhaus, Berlin




…YET TO BE DISCOVERED is a collective exhibition presenting the work of a selection of six young international design studios during the Berlin Design Week 2013. The objects, shown at the Direktorenhaus, are formed by stories redefining their function and purpose.
Designers: Anna Badur, Daniel Becker, Kai Linke, Mashallah, Florian Schmid und Stoft

Berlin Design Week




________________________________________________________________________________________________
June 2013
iF CONCEPT DESIGN AWARD FOR DRAWN BY NATURE FABRICS


I am pleased to announce that "Drawn by Nature" fabrics have been awarded with the iF concept design award 2013 in the category "furniture / home textiles / fabrics".






________________________________________________________________________________________________
April 2013
NOMADISMI: GALLERY ALTAI AND LIDEWIJ EDELKOORT


9 -15 April
Salone del Mobile Milan
On show: Where we rest




Anna Badur has been invited by Studio Lidewij Edelkoort for the Nomadismi exhibition at gallery Altai. The exhibition is an installation between avant-garde design and antique primitive carpets, tracing the new lines of nomadism in the third millennium and analyzing their influence on contemporary interiors.
Curated by Raffaele Carrieri, Lidewij Edelkoort / Audiovisual Lidewij Edelkoort


April 9 to 15 / from 10:00 to 13:00 and 15:00 to 20:00 / Cocktail: April 10 at 18:30
Altai / via Pinamonte da Vimercate 6 / 20121 Milan / Italy

PRESS RELEASE



________________________________________________________________________________________________
April 2013
DESIGN ACADEMY EINDHOVEN PRESENTS: LINKING PROCESS


9 - 14 April
Salone del Mobile, Milan
On show: Drawn by Nature / fabrics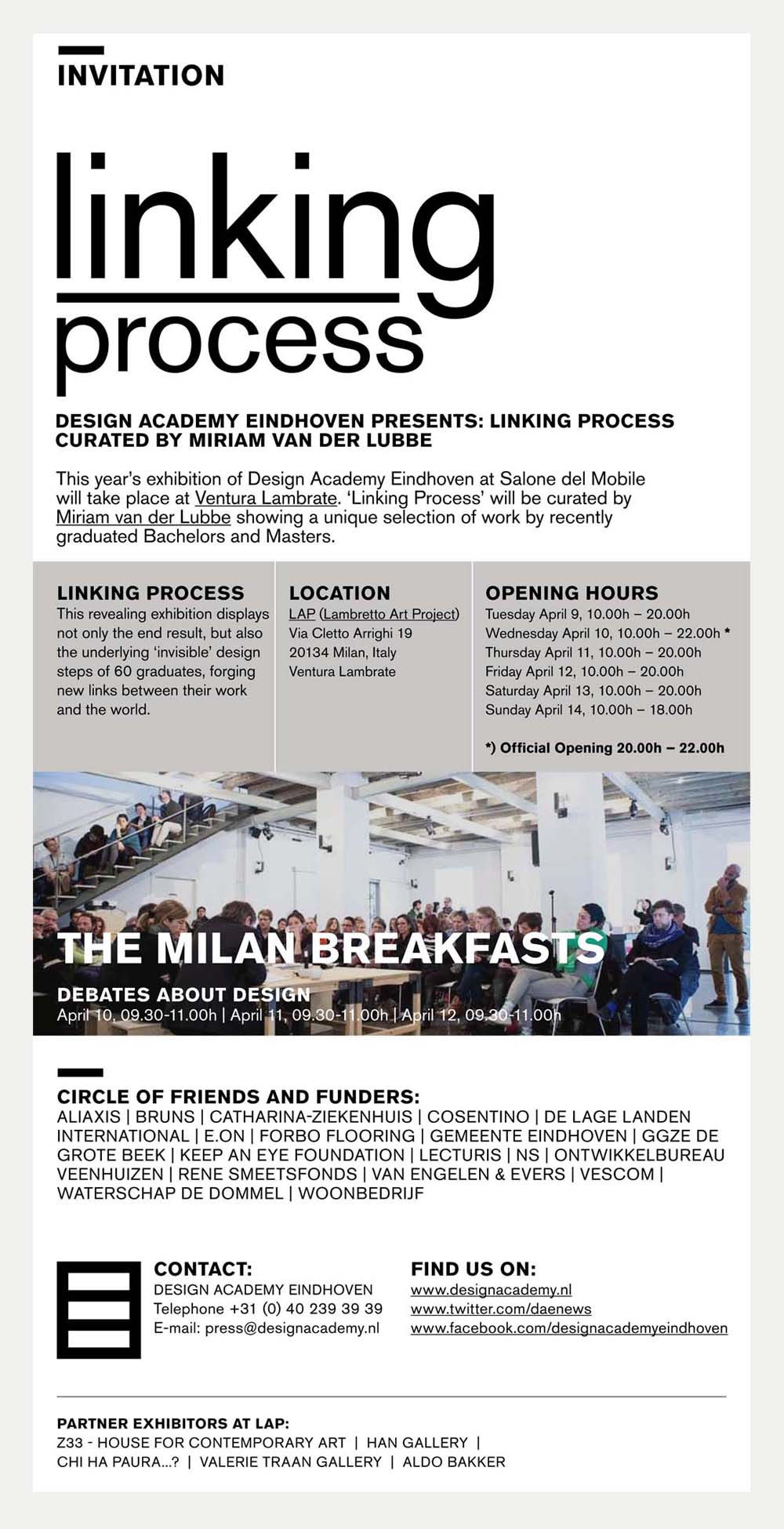 Anna Badur's 'Drawn by Nature' textiles are selected by curator Miriam van der Lubbe for the Linking Process exhibition presented by Design Academy Eindhoven during this year's Salone del Mobile in Milan. There will be new fabrics on show.




________________________________________________________________________________________________
April 2013
BRAUNSCHWEIG - UNIVERSITY OF ART
I am pleased to announce that I will start as a teaching and research assistent at Braunschweig University of Art, department for Industrial Design, in April 2013.




________________________________________________________________________________________________
March 2013
iF CONCEPT AWARDS 2013 @ Cebit Hannover








________________________________________________________________________________________________
November 2012
WE ARE HEREAT SCHIO DESIGN FESTIVAL

On show: 'Drawn by Nature' textiles
Fabbrica Saccardo / Schio / Italy
9 - 18 November 2012 / stays open until Christmas!





WAH Design Store starts its run in Italy during the 3rd edition of Schio Design Festival. Fabbrica Saccardo, a cultural centre located in a former textile factory, has generously transformed its library into an exhibition room. For this stage, designer Giacomo Piovan has collected ten projects including graphics, products, photography, jewellery and fashion. WAH - Design Store believes that Design is closer to people than ever, therefore aiming to closely involve the Festival's visitors and beyond.




Designers: Anna Badur DE, Capolinea Design IT, Gabrielle Sallé-Osselin FR, Giacomo Piovan IT, Gionata Gatto IT + Mike Thompson UK, Juan Soriano Blanco SP, Lina Marie Köppen DE, Lynn Schammel LU, Piero Martinello IT, Taylor Gilbert US







________________________________________________________________________________________________
October 2012
GRADUATION SHOW 2012 @ deWitteDame
20 - 28 October 2012



During the Dutch Design Week, from 20-28 October, Design Academy Eindhoven will be organizing its annual Graduation Show. The name of this year's exhibition is Up Close Wide Open and it will take place at the WitteDame building, home of the academy. The show will offer a complete overview of the graduation projects made by no fewer than 131 recently graduated DAE Bachelors and Masters.


Opening hours:
Saturday 20 October: 13.00 - 18.00h
Sunday 21- Wednesday 24 October: 11.00 - 18.00h
Thursday 25 and Friday 26 October: 11.00 - 22.00h

Design Academy Eindhoven




________________________________________________________________________________________________
July 2012
MASTERS GRADUATION AND SYMPOSIUM 2012
05 July 2012

deWitteDame building
Emmasingel 14
5643 KK Eindhoven
The Netherlands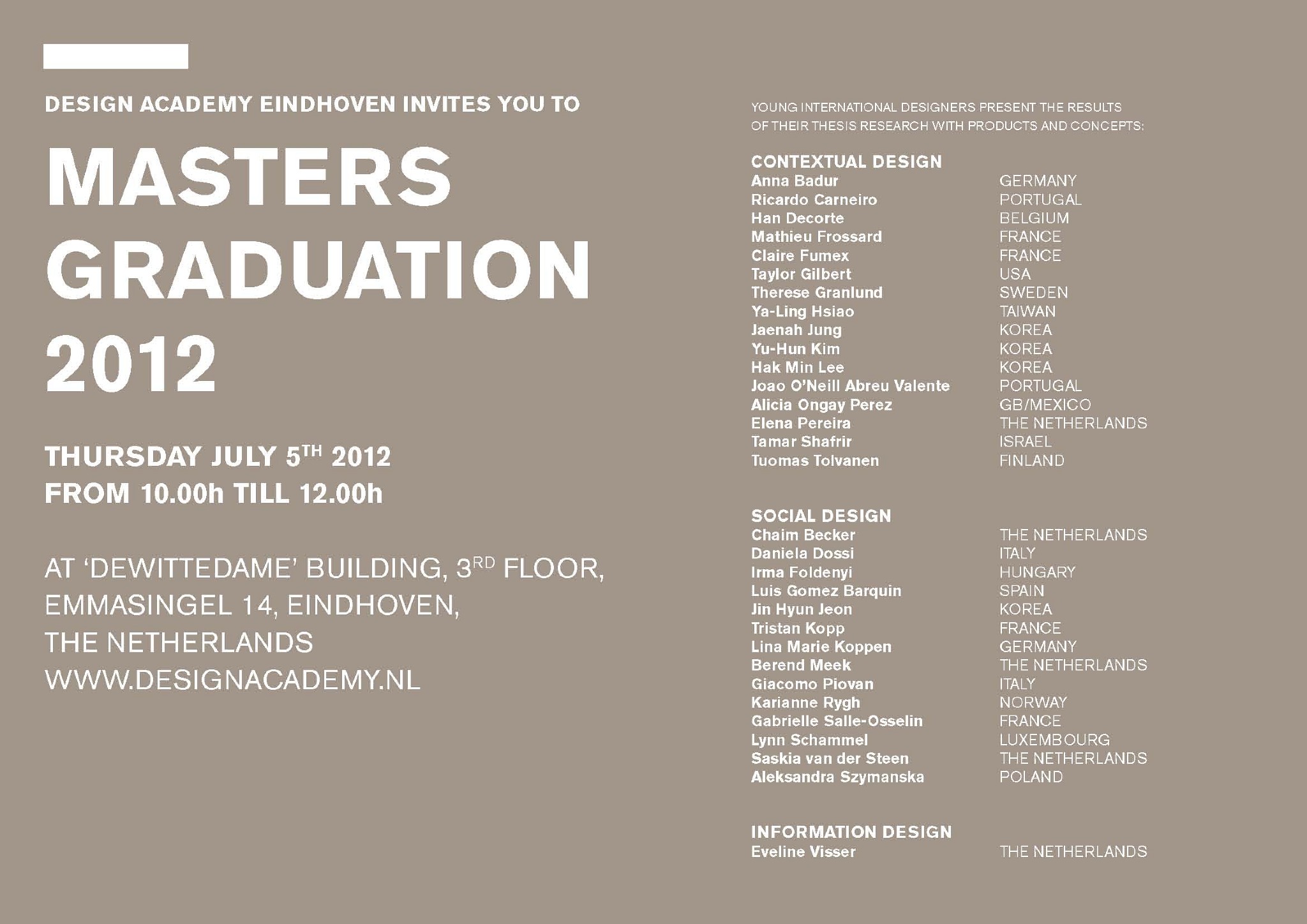 This week we have celebrated the graduation of 31 master students from the departments Contextual Design, Social Design and Information Design.

The master students presented their final projects, which were evaluated and judged by the examination committee. They showed a large variety of projects. The graduates started their project with a question. For example: "Could we define Conceptual Design today in the same way?" or "How should a designer approach the task of creating an everyday, archetypal object?". These questiones have led to the final results, which were shown during the Master Graduation Show.

Master Symposium
The annual Masters Symposium took place in the Auditorium today. From 14.00 - 16.30 we had an inspiring and diverse programme that centred on the themes and subjects that we touched upon last year. The programme was an accumulation of talks by the research heads and Gijs Bakker, with info graphics, video messages, keynotes, thesis presentations by recent Graduates, presentation of student projects, and much more.





________________________________________________________________________________________________
December 2011
LECTURE @ Hochschule für Bildende Künste Braunschweig / Braunschweig - University of Art
21.12.2011 / 18:00 / HBK / Raum 007






________________________________________________________________________________________________

LANDSCHAP IN PERSPECTIEF:
Research Design Academy Eindhoven
28 march - 23 june, 2011

In cooperation with NAiM/Bureau Europa, the Province of Limburg and Design Academy Eindhoven

In cooperation with NAiM/Bureau Europa and the Province of Limburg, Marres will realize a project in 2011 and 2012 that focuses on the Euregional landscape. The first project that has been initiated within this program is a collaboration with the Design Academy Eindhoven. The past few months, thirty students of the master program have done research into meaningful places in Limburg and the surrounding regions and developed strategies to make these places accessible for a broad audience. This has resulted in a number of surprising and innovative concepts and insights, that were presented during a symposium on Thursday, June 23rd 2011. In October, the concepts and designs were presented in the Gouvernement in Maastricht.



www.marres.org
www.landschapinperspectief.nl





________________________________________________________________________________________________

SCHAUWERK - WERKSCHAU
Hintern Brüdern 23, 38100 Braunschweig, Germany
24 - 27 June 2009






________________________________________________________________________________________________